Cooperation Framework Agreement Signing Ceremony
2018-10-23
October 18th, Signing Ceremony, between Brightway Solids Control Co.,Ltd ( Brightway ) and China Railway Environment And Technology Engineering Co.,Ltd ( CRHIC ), of Cooperation Framework Agreement was hold ceremoniously in the conference department of CRHIC. Mr. Wang, Brightway general manager, and Mr. Liu, CRHIC secretary of the party committee, sign the cooperation agreement. After the meeting, Mr. Wang shook hands and took a group photo with Mr. Liu.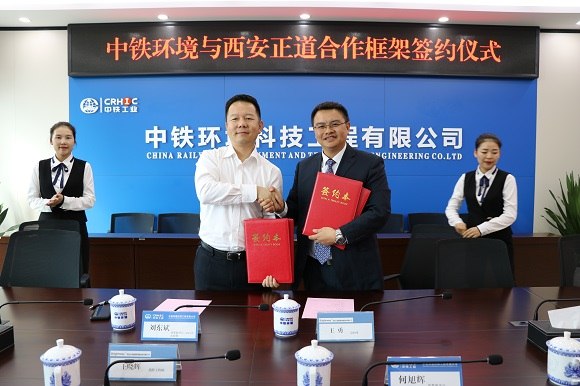 Mr. Wang were received warmly by CRHIC. They discussed various cooperation item and complete all cooperation procedures in a warm and relaxed environment. CRHIC Is a subsidiary of China Railway Industry Group, environmental governance investment, environmental equipment development and manufacturing as the main business direction. After investigation and evaluation comprehensively,CRHIC choose cooperation with Brightway. It is a highly recognized in the field of environmental protection. The signing of the framework agreement provides a top-level design about detailed technical, business and program cooperation between the two companies for future.
As a pioneering and innovative enterprise in the field of environmental protection, The cooperation framework agreement is Brightway's marketing strategy needs in the environmental field. This means that Brightway will have more opportunities to take advantage of its environmental technology and equipment to participate in the environmental-protection governance led by state-owned enterprises in the future. Achieve mutual benefit and win-win results.
Anterior :Sludge Dewatering System Shipped to Thailand in Southeast Asia
Próxima :Brightway Invitation of 2018 Bauma China in Shanghai