Room 11608, Unit 1, Building C, Door of Metropolis, Tangyan South Road, New Area of High-tech District, Xi'an City, Shaanxi Province, China

+86-29-89305761

+86-29-89305769

brightway@brightwaysolids.com
Liquid Mud Plant
The Liquid Mud Plant (LMP) is the Mud Treatment system, which is compose of the Mud Shaker, Mud Agitator, Mud Tanks, Jet Mud Mixer, Centrifugal Pumps. As the Liquid Mud Plant designer and supplier, Brightway can make customized Liquid Mud Plant for mixing, treating and storing expensive invert oil emulsion mud in Oil Drilling Project.
Liquid Mud Plant Layout
Brightway Liquid Mud Plant
1. Mud Shaker: Brightway company can provide types of mud shakers suitable for various working conditions, Including: high frequency mud shaker, double deck mud shaker, dry mud shaker, double mud shaker for customer selection.
2. Mud Agitator: such as 7.5KW, 11KW, 15KW, 22KW Mud Agitator for customer selection. And the mixing rod and impeller can be customized according to the depth and length of the tanks.
3. Mud Tanks: Brightway design and customize various types of Mud tanks for the liquid mud plant, Including: oil-based mud storage tank, water-based mud storage tank, water storage tank, slurry tank, unloading tank and so on.
4. Mud Mixing Hopper : Single & mud mixing hopper for customer selection.
5. Explosion-proof electric control system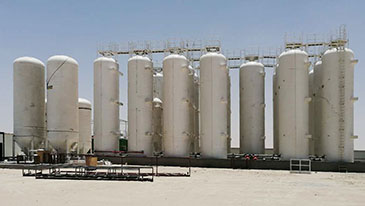 Function of Liquid Mud Plant
The Liquid Mud Plants are able to store and supply liquid chemicals such as Oil Base Mud, Base Oil and Water Mud to meet the demands for deep and ultra-deep offshore drilling activities.
The Liquid Mud Plant is in place for one primary purpose and that is to keep good drilling mud properties in the wellbore as much as possible.
Within each drilling fluids supply base, you can usually find what "Mud" companies are working offshore from this base as they are represented in the form of a Liquid Mud Plant.
This liquid mud plant is used to manipulate (mix, dilute, treat, adjust) various drilling fluids to be used in wells supported by this Supply Base.
Offshore supply vessels are used to transport any drilling or completion fluids to and from the Liquid Mud Plant that cannot be mixed up or treated on location.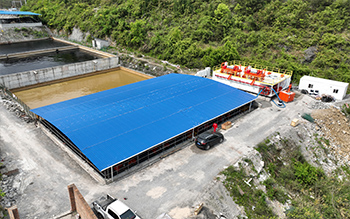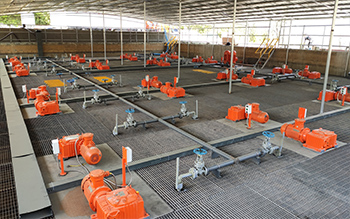 Contact Us
If you have any questions or suggestions about this Liquid Mud Plant, or you would like to get more information about the specifications, models, parameters, schemes, price and quotation of the Liquid Mud Plant, please contact us!
Xi'an Brightway Energy Machinery Equipment Co., Ltd
Phone: +86-29-89305761
E-mail: brightway@brightwaysolids.com
Address: Suite D, City Gate, High-tech Zone, Xi'an China