Room 11608, Unit 1, Building C, Door of Metropolis, Tangyan South Road, New Area of High-tech District, Xi'an City, Shaanxi Province, China

+86-29-89305761

+86-29-89305769

brightway@brightwaysolids.com
Two Sets of Desanding Plant for Indonesian Pipe Jacking Construction
2023-04-11
Recently, two sets of 200m³ desanding plants from Brightway were delivered to Indonesian customers to assist in the construction of local pipe jacking projects.
This desanding plant adopts electric control, with high automation program and simple operation. It can be operated and used by ordinary workers, with low failure rate and convenient maintenance in the later stage; The power of the desanding plant is low, the energy consumption is low, and the user's later use cost is low; Using this equipment to treat sludge without adding chemicals can greatly save on later usage costs;
After being processed by the system, the moisture content of the dehydration equipment is 10-20% lower than that of general dehydration equipment, saving subsequent shipping costs; The system has a large processing capacity, with a mud processing capacity of up to 200 cubic meters per hour; The system has high processing efficiency. The higher the mud concentration, the shorter the mud discharge time, which can be as fast as 15-30 minutes; The system has good treatment effect, and the clean water (without chemical pollution) during treatment can be directly reused or discharged to the outside at any time. The desanding plant we provide will help customers achieve the goal of reducing the amount of mud and water separation during pipe jacking construction, avoiding environmental pollution during construction, and improving construction efficiency.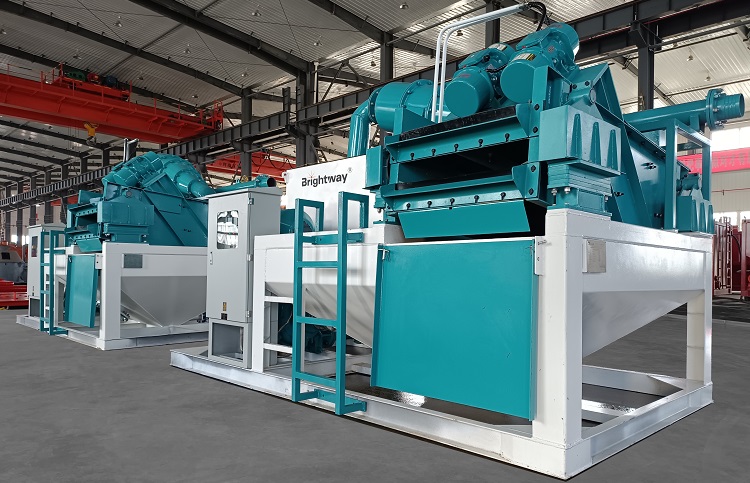 In the field of HDD and pipe jacking construction, Brightway has always been based on the customer's on-site working conditions, taking solving the problem of mud separation at the customer's site as its own responsibility, and providing customers with more integrated mud system solutions. The main BWSP series desanding plant has been applied on site in major pipe jacking projects in Southeast Asia. More desanding plants for pipe jacking construction, with complete and mature experience in the design, production, and application of
slurry separation systems
.
For more information about desanding plant, please email us at brightway@bwwell.com.
Anterior :Mud Mixing Equipment Was Delivered to Nigerian Customers